Treat yourself to the luxury of all-round pampering in our special mirror tent theatre! Our dishes are prepared fresh daily from regional and seasonal products. We will be happy to serve you a refreshment from our large selection of drinks to go with it - perhaps a cool Krombacher Pils on tap or a fine Prosecco?
Our exquisite drinks menu in particular leaves nothing to be desired! In addition to food requests from the evening menu, we also offer our guests the booking of a 3-course menu.

Small Dishes
Chanterelle cream soup with croutons and watercress oil
€7,50
Oven cheese with olives and freshly baked bread
€11,50
Selection of cheeses with bread and butter
€14,50
"Schnuckedönschen" – Variety of Pumpernickel canapés with delicacies such as Tête de Moine, mildly smoked country ham, homemade Berlin mini-meatballs and smoked salmon
€15,50
Caesar Salad – Crisp romaine lettuce hearts with Caesar dressing and marinated Kikok chicken breast
€15,50
Caesar Salad – Crisp romaine lettuce hearts with Caesar dressing
€12,50
Bread basket with butter
€3,50
Main Dishes
Gin and tonic marinated halibut with cantaloupe melon, pea asparagus shoots and wild herb salad
€16,50
Strozzapreti with leaf spinach, goat cheese, tomato confit and pine nuts
€13,50
Cold roast beef, roasted pink, with fried potatoes and remoulade sauce
€18,50
Baked and breaded veal shank with potato and celery puree and fried chanterelles
€19,00
Sweet Dishes
Rhubarb tart with strawberry sorbet and vanilla whipped cream
€7,50
Ice cream/sorbet – each scoop of your choice (from the Charlottenburg ice cream manufactory Gimme Gelato)
€2,50
---
If you have any food allergies, please ask our service staff for a menu with allergene labeling.
In respect for the artists on stage, we do not serve during the show and kindly ask you to give your orders to our waiting team about 20 minutes before the performance begins.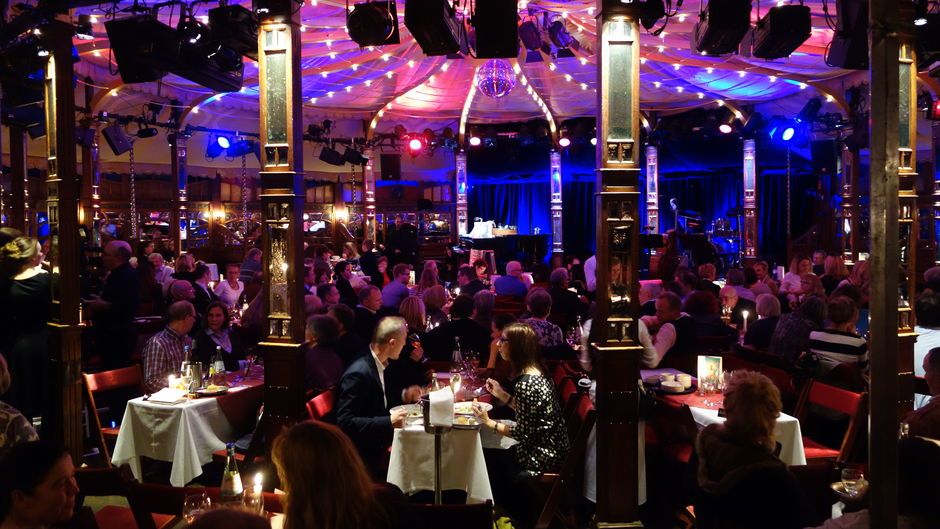 In order for you to dine in comfort, we open at 6.30 pm on Mondays to Saturdays (5.30 pm on Sundays). We start serving the menu 15 minutes after admission. The starter and main course are served before the show, the dessert during the interval.
Please note that menus can only be booked for price group I at tables of 6*.
You can book our 3-course menu online, together with your ticket, up to three days before the event, or by phone + 49 30 883 15 82 up to one day before the event, as well as at our theatre box office.
*According to availability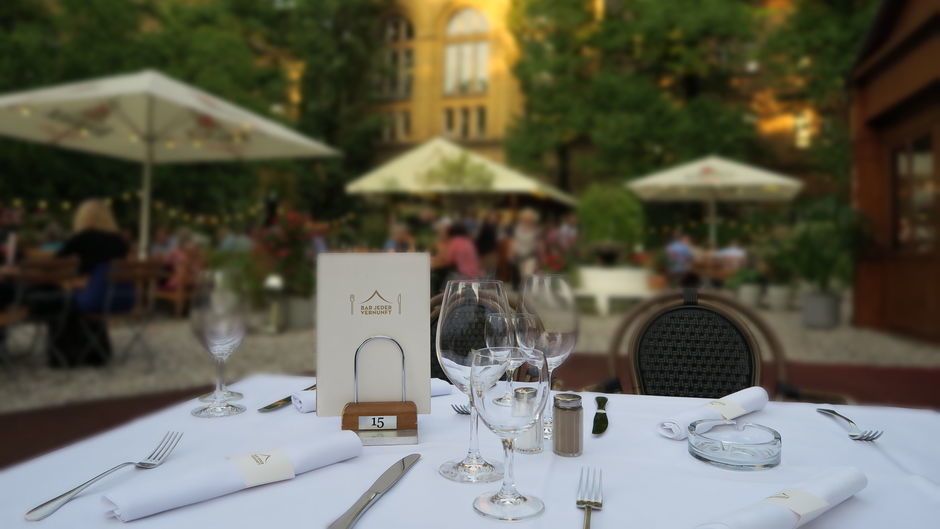 Our varied drinks menu offers a wide range of choices from open and bottled wines to crémant and champagne or seasonal soft drinks and fulfils even the most demanding wishes. Or enjoy a Krombacher Pils on tap.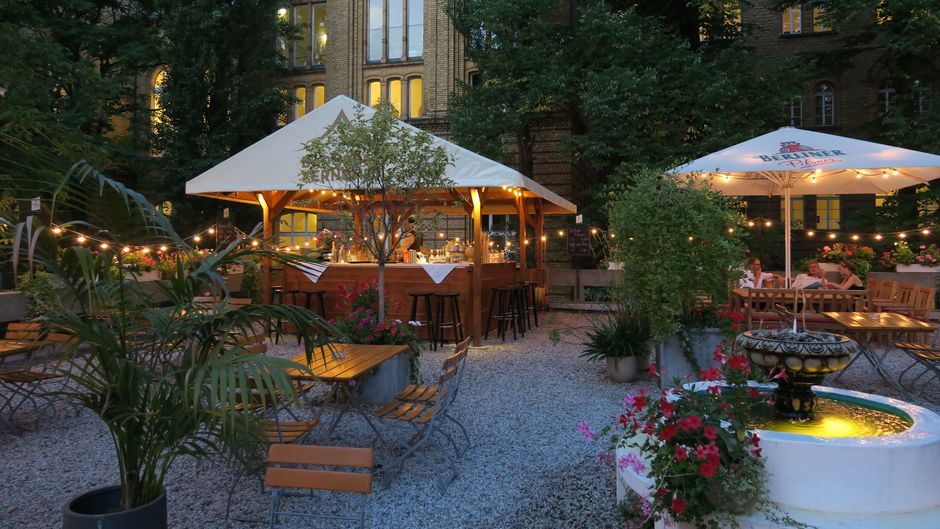 Whether before the performance, during the interval or on warm nights after the show, you can really enjoy the summer here.
During the summer months, the beer garden is open one hour before admission, Tuesdays to Saturdays from 5.30 pm, Sundays from 4.30 pm. And even after the performance, the beer garden invites you to round off the evening.