BAR JEDER VERNUNFT offers excellent entertainment in a pleasant atmosphere along with a high-quality, fresh cuisine to satisfy all appetites. Our food is made fresh each day and of the finest local and seasonal products. Our selection of beverages includes a wide choice of alcoholic and non-alcoholic drinks. The seasonally changing menus are complemented by an excellent wine list. You can dine before the performance, or simply enjoy a pre-theater drink. Please note, that a reservation of culinary packages is possible until one day before the show by calling our box office hotline.
Our service staff will take your orders from the à la carte menu until 45 minutes prior to the show, drink orders until 15 minutes before the show starts. Enjoy the luxury of being spoiled and let us take care of all your wishes in our very special marquee theater!


Little Dishes
Gazpacho made of smoked bell pepper and raspberries with burrata
€8,50
Oven-baked cheese served with olives and bread
€9,50
Selection of cheeses, served with grapes, fresh bread and butter
€12,00
A variety of Pumpernickel canapés with assorted cheeses and cold-cuts topped off with mini rissoles, mustard and pickles
€11,50
Crisp romaine lettuce with classic Caesar dressing
€10,50
optionally served with strips of grilled "Kikok" chicken breast
€14,50
Main Dishes
Fettuccine, wild mushrooms, parmesan and wild herbs
€13,50
Crayfish terrine with green beans and pear
€14,50
Medium well roast beef with roast potatoes and remoulade sauce
€16,50
Braised knuckle of lamb, ratatouille and gremolata
€18,50
Sweet
Cheesecake with white chocolate and passion fruit-pineapple ragout
€7,50
---
If you have any food allergies, please ask our service staff for more information.
In respect for the artists on stage, we do not serve during the show and kindly ask you to give your orders to our waiting team about 15 minutes before the performance begins.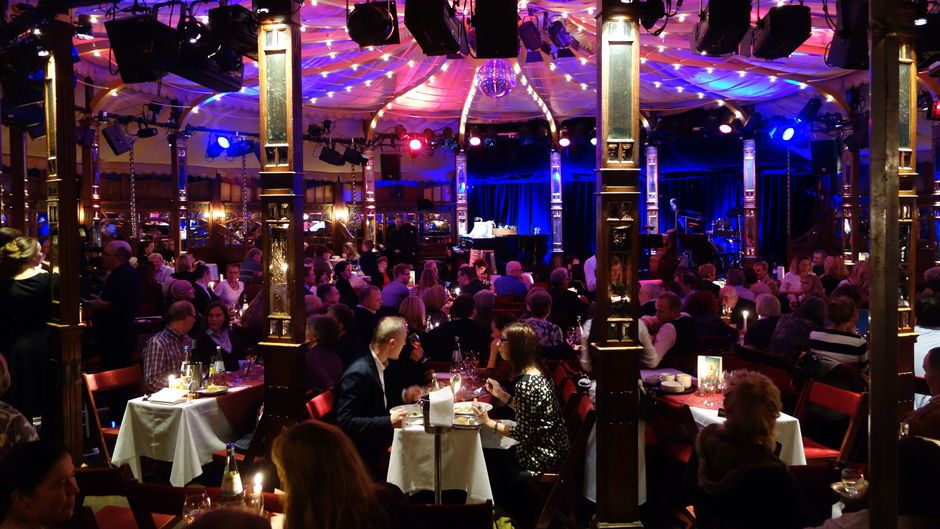 We serve the starter and the main dish before the show, and dessert during intermission. To enjoy your food in a relaxed atmosphere and with plenty of time, please ensure that you arrive at BAR JEDER VERNUNFT at 6:30 pm (on Sundays at 5:30 pm). We will start serving the food around 6:45 pm (on Sundays at 5:45 pm).
The 3-course menu costs €33,00 per person.
You can book the menus via our ticket hotline at + 49 30 883 15 82 or at the theater until one day before the performance at the latest.
"Kulajda" - Bohemian potato & mushroom soup with dill, sour cream and egg
Cooked shoulder of beef served on cream savoy cabbage and potato noodles
Vegetarian option:
Cream savoy cabbage served with oven shallots with marjoram, potato noodles and port wine reduction
Almond crème brûlée with orange sorbet and Grand Marnier
---
Chestnut & celery soup with apple chutney
Braised leg of Oldenburg duck with red cabbage and potato dumpling
Vegetarian option:
Stuffed celery schnitzel served with red cabbage and potato dumpling

Gingerbread cream with rum fruits and meringue
---
Lobster bisque with king scallops coated with pumpkin seeds, and fennel pakora
Vegetarian option:
Cream of fennel and anise soup with fried king oyster mushrooms and pointed cabbage pakora
Sous-vide ox cheek in a caramelized cream sauce with smoked potatoes, mushrooms, spinach and butternut squash
Vegetarian option:
Baked Arancini Siciliani filled with Fourme d'Ambert with almond velouté, mushrooms, spinach and butternut squash
Prickly pear sorbet on salad of fresh figs and persimmon, currant foam and Amarula cream
---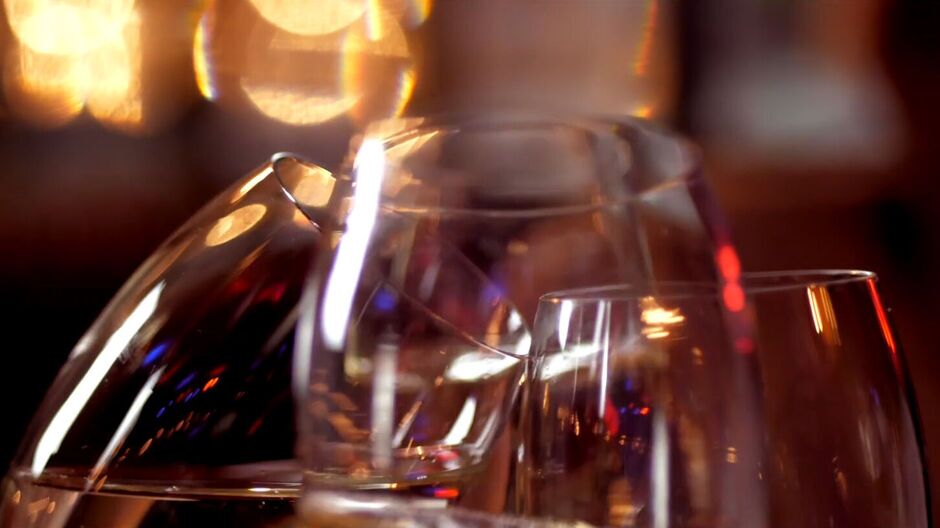 Treat yourself to some BAR JEDER VERNUNFT luxury and celebrate in style with a bottle of champagne at candlelight. Book our champagne seats for your six tickets.

€63,00 max. 6 persons
You can book the culinary packages via our ticket hotline at + 49 30 883 15 82 or at the theater until one day before the performance at the latest (depending on the availability).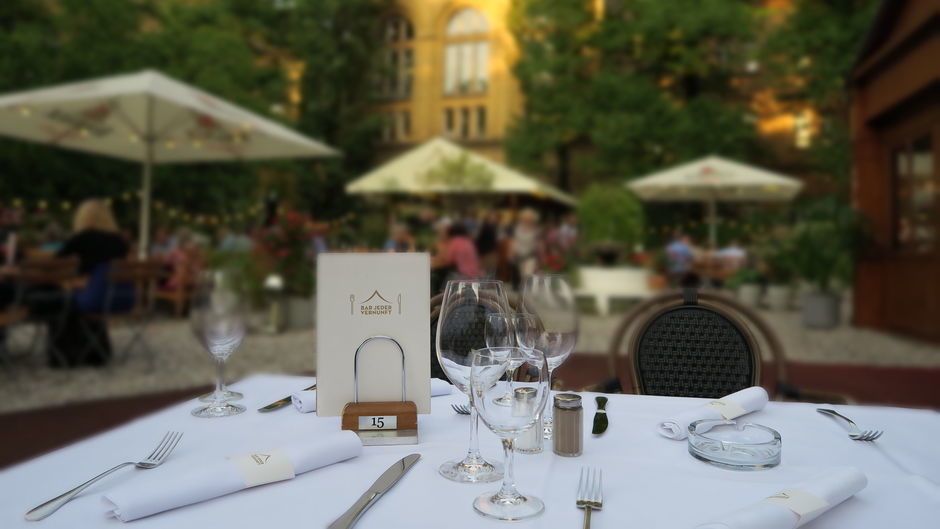 Our extensive list of beverages offers you a variety of options ranging from wine by the glass and bottles to Crémant and Champagne or seasonal refreshments, also meeting sophisticated wishes. Or enjoy a Berlin Pilsner draft beer.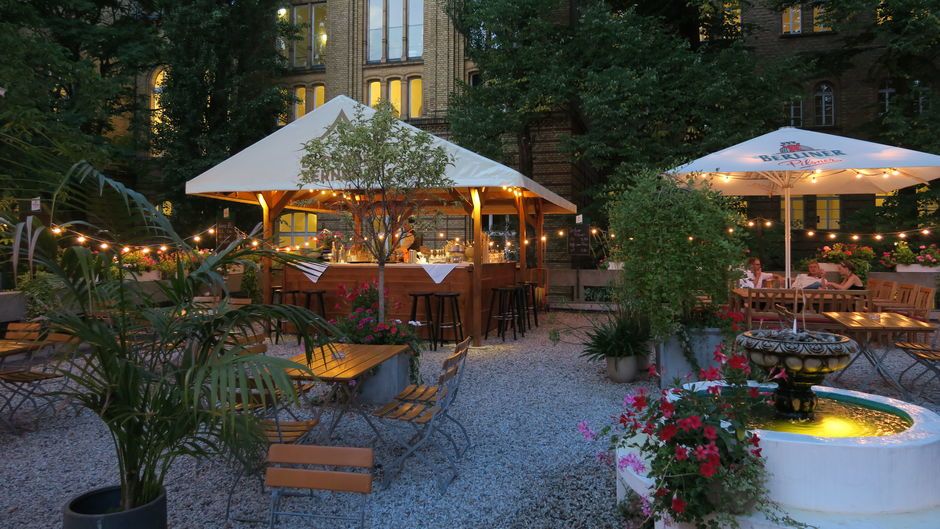 Enjoy an impressive view of the chancellery. Wether before the show, during the interval or on a warm night after the show – our beer garden with its pleasant atmosphere is the perfect place to have a pre-theater drink or to enjoy a meal from our delicious menu.
Our beer garden is open in summertime: Monday – Saturday from 5:30 pm and Sundays from 4:30 pm.