June 25 to 29, 2019
Mad Office / Büro Absurd

Trygve Wakenshaw & Barnie Duncan
Hilariously funny! Minimal dialogue, a dry, slightly dark and refined humor and the comedy of the banal – biggest hit of the season at the Edinburgh Fringe Festival 2017!
"Imagine a Room, covered in Skin". In the simple sales office of the furniture store Rucks Leather Interiors, Mr. Grareth Krubb (the unbelievably gangly Wakenshaw) and Mr. Dennis Chang (the somewhat broader Duncan with an unexpected feminine side) going about their hectic business day for day. In their paltry "from 9 to 5" office atmosphere an extravagant world of fantasy unfolds. A sticky piece of paper transforms men into pigeons, briefcases act like dogs and the telephone never stops ringing. With little dialogue, Wakenshaw and Duncan fill their little world with silent, physically expressive absurdity, and bizarre fantasies emerge from the monotony of everyday office life.
An appropriate comparison might be made between their art and the slow precision of Jacques Tati, but these two – the classic comedy combination of the tall, thin guy with his shorter, stockier counterpart – lends their strange visual humour a strong touch of surrealism.
A new duo: so far successful comedians in their own right, Wakenshaw and Duncan joined up last year and presented their first programme as a duo.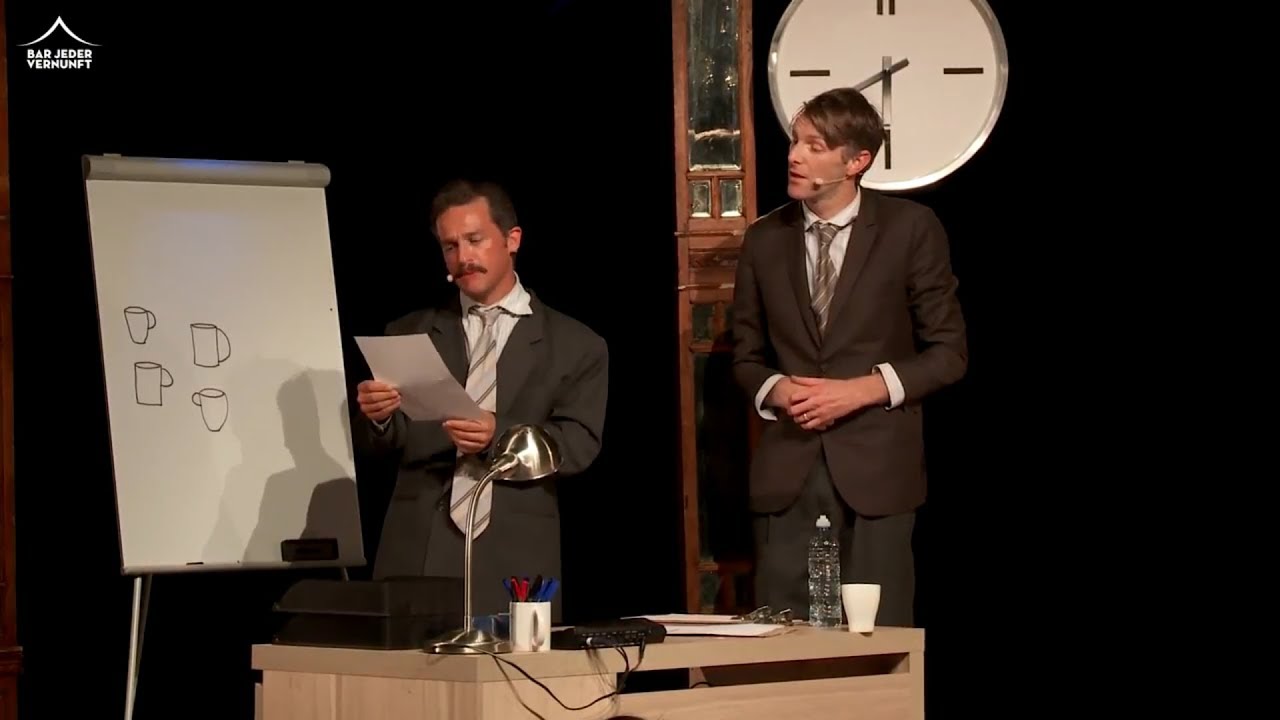 ---
Admission and restaurant open Mo-Sat from 6:30 pm / Sundays from 5:30 pm.
You are free to choose your own seating within the relevant price categories. Arriving early ensures a higher availability of seating to choose from.
It is possible to reserve a table if you make a booking to eat. You can book a set menu or other items via our ticket hotline at + 49 30 883 15 82 or at the theater until one day before the performance at the latest.
As changes may occur to the performance schedule at short notice, please check our calendar.
Please note that children are only permitted from the age of 6.
Upon entering the venue, you assign your rights to any sound and image recordings of your person, free of charge and without any spatial restrictions.
prices
From €22,00 to €37,00
Discount depending on the price category:
€12,50 | €14,50 | €16,50

There is no advance booking fee at the box office.
Reviews
A howlingly funny, exquisitely performed hour of office-set slapstick from two of New Zealand's most exciting comic talents.
These physical comedians from New Zealand have made a show that is funny for just being funny